Description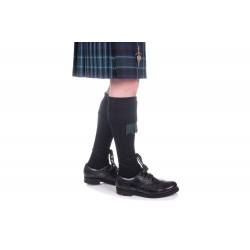 Available in a full range of colors, these are ideal every day kilt hose that wear well.  It is a traditional style wool rich hose with a less bulkier turn over top compared to Piper Hose.  Full range of colors that will work with every tartan.  If you have a wide Scottish calf of over 16 inches, we would suggest ordering our wide calf Cheviot kilt hose for a better fit.
If you are unsure of a hose color, then send us an email with a photograph of your tartan and we will help narrow down the choices.
The combination of 40% wool, 40% acrylic and 20% nylon.
Made in the UK. Flashes sold separately.
Sizes:
Small: UK 4-7; Europe 37-40; US 5-8
Medium: UK 8-10; Europe 41-44; US 9-11
Large: UK 11-13; 45-48; US 12-14